About the choir
Mixed Choir JITRO was founded in 1997 as a graduate choir of the Czech Children's Choir Jitro in Hradec Králové. Both groups were conducted by father and son Jiří Skopal. Nowadays there are about 30 singers not only from the Skopal's choral school. In the years 2013-2021 the choir was led by Jan Fajfr, in 2021-2023 by Lukáš Mekiňa.
We are pleased to announce that in the 2023/24 season, we are led by conductor Jakub Martinec.
"I am looking forward to cooperate with the Mixed Choir Jitro this year. I know several singers from my childhood spent in the choirs Jitro and Boni pueri under the leadership of Professor Jiri Skopal, who instilled in us a love for choral singing. Thank you for your trust, and I look forward to joint rehearsals, concert projects, and regular visits to Hradec Králové, where I was born and spent many beautiful years."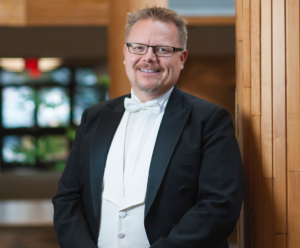 Jakub Martinec, Ph.D., is a native of Hradec Králové who currently serves as a university professor and head of choral studies at Memorial University of Newfoundland in Canada. In addition to his academic work, he performs as a conductor on major world stages with leading artistic personalities, serves on juries of choral competitions, records music, and has received significant awards. He began his career in Hradec Králové as a singer in the choirs Jitro and Boni pueri before becoming a conductor of well-known Hradec Králové boys' choirs and a significant musical and pedagogical figure.
The choir´s reputation is evidenced by awards at the international choir competition Iuventus Mundi Cantat in Olomouc by gaining 99 out of 100 points. The choir is regularly invited to major music festivals, famous czech composer Jan Jirásek invited Jitro to record the music for the musical Pinocchio and for the movie Kytice by F. A. Brabec. The Choir collaborates with other artistic ensembles, philharmonic orchestras from Hradec Králové and Pardubice.
Significant performances:
Prague Spring: Missa Solemnis/W.A.Mozart with Pardubice Chamber Philharmonic Orchestra
Ofer Ben-Amots premiere
Festival of Sacred Music in Lecce: Magnificat/J.S.Bach and Antonio Vivaldi
Movie recordings: Kytice/Jan Jirásek
Rock oratorio/J.Johansen and E. Kulberg
Smetanova Litomyšl festival: Carmina Burana/Carl Orff
World premiere of Missa Pastoralis/J. Laburda
The Festival od Sacred Music Šumava/Bayerischer Wald
International Music Festival Ji-Nan China
Repertoire:
Repertoire includes sacred music, compositions from the period of the Middle Ages to the 21st century, music from both the classical and popular spheres, including modern works, choral arrangements of spirituals and jazz music.
This wide spectrum of the repertoire allows the choir to arrange varied and individual dramaturgy of each concert, that could be focused on a development of both world and national choral literature, or dedicated to specific authors, or designed as thematic e.g. for an Advent and Christmas time, etc.
Video samples:
Vytautas Miskinis: Cantate Domino und Paul Basler: Gloria (Kenianische Messe)
Geistig Deep River
Contacts:
Address:
Smíšený sbor JITRO, z.s.
Stěžírky 152
Stěžery
503 12
Czech Republic
Contact person:
Helena Fikarová
Phone: +420 777 253 344
E-mail: info@smisenysbor.cz